Discover more from 3musesmerge
Hear your muses... Find your life.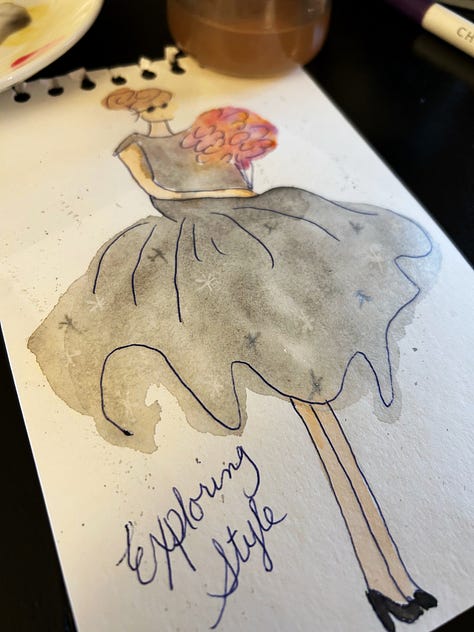 "Oh - My - Galoshes!" Tal's eyes twinkled. "Look what Substack let us do this morning… A gallery! A galllllllllll—errrrrrrr—eeeeeee!"
Urania frowned. "If we don't settle on a look, how will we ever build consistency and recognition?" Coffee sloshed as her cup met coaster.
"Our consistency and recognition is built by… showing up… consistently?" Calliope reached into Typist's kangaroo sweatshirt pocket. "Thank you for making sure we do Nia…" With a crumpled napkin, Cal swabbed up splatters. "And… modeling exploration is… an anchoring vertebrae of our posture. The way I see it… our individual projects require stylistic themes… but 3mm is where chaos propels our creativity."
---
Words from Typist:
Seeing something intriguing, and trying whatever it is, brings me joy — like today's top-left, quick-n-dirty image.
What intrigues you reader?
Will you explore today?
Explorers wear muse-wear… (Oh my galoshes… only 4 more days to order!)
A question from yesterday's comment thread.
Thanks Gary!
How does Tal sit still if Daphne Willis' music is playing in the studio?
SHE DOESN'T!

3musesmerge is a reader-supported publication. To receive new posts and support my work, consider becoming a free or paid subscriber.